Buffalo Niagara International Airport Car Rental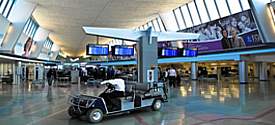 You can always count on the Buffalo Niagara International Airport (BUF) car rental services offered by us to take care of all your traveling needs in Buffalo-Niagara area. When you select us, you can be sure of receiving the best Buffalo Niagara Airport car rental deals at an affordable price. With us, you also have the liberty to decide the pickup spot for the rental car. Buffalo Niagara International Airport car hire from us add comfort to all your traveling needs in USA and provides different inclusions. You also have the enticement to select from a wide fleet of cars.
Guide to Buffalo Niagara International Airport
The Buffalo Niagara International Airport is situated in Cheektowaga Town in New York's Erie County. This airport was named after the metropolitan area in Buffalo and Niagara Falls. The service of the Buffalo Niagara International airport extends to both the southern parts of Ontario in Canada as well as the Buffalo area in the US state of New York. In addition, this airport also lies close to the Pearson International Airport in Canada and the John C Munro International Airport which is situated in Hamilton in the Ontario Province of Canada. This is airport is considered to be one of the busiest airports in the entire state of New York. On an average, it handles around 110 flights daily from 21 cities across the continental region in the United States. Travelers can rent a car at Buffalo Niagara International Airport from us to reach any destination from this airport in comfort.
About Buffalo City
The City of Buffalo is the second largest city in the state of New York. The Niagara River separates this city from Canada. It is a beautiful city that is known for its historical charm, classical architecture and Art Deco buildings. Buffalo offers a multitude of things to do as well as see which include both man made as well as the natural attractions. Travelers can obtain essential details about tourism in Buffalo from the Visitor Center in Buffalo Niagara.
Summer is usually the peak season for tourism. However you can also visit during autumn to avoid the crowd. Some of the must see tourist attractions in Buffalo include the "Darwin D. martin house" which was designed by a renowned architect- Frank Lloyd Wright during the early twentieth century. The Zoological Gardens in Buffalo is another important tourist attraction. It is in fact one of the oldest zoological gardens in the country. Apart from these there many more tourist attractions that lay scattered across the city. Buffalo Niagara International Airport car hire from us will enable you to visit these places at your own convenience.