Manchester-Boston Regional Airport Car Rental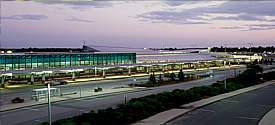 Exploring the New Hampshire region with Manchester-Boston Regional Airport (MHT) car rental is quite easy, cheap and convenient. With huge selection of cars to match your needs, we offer one of the best and reasonable Manchester-Boston Regional Airport car rental services in the region. We offer wide range of rental inclusions like collision damage waiver, breakdown assistance, low VAT local tax, airport tax, road fund tax, liability insurance, unlimited mileage, diverse pick up and drop off Manchester-Boston Regional Airport car hire locations and round the clock customer support.
About Manchester Airport
The Manchester-Boston Regional Airport is located about 5 Km from the main town of Manchester in New Hampshire. The airport lies on the county line of the Rockingham and Hillsborough counties. Earlier known as the Manchester airport, the term Boston Regional was added to the name of the airport to show up the proximity of the airport to Boston in Massachusetts that is about 80 Km from the airport. The city can be easily accessed with Manchester-Boston Regional Airport car rental from us.
More about the Airport
The Manchester-Boston Regional Airport is one of the busiest airports in US that handle general, commercial and military aviation. The airport is certified for Cat III B Instrument landing operations that support the aircrafts in landing during the bad weather. With two runways, the airport offers regular flights to major destinations of US including Toronto, Atlanta, Detroit, Chicago, Phoenix, Washington, Philadelphia, New York, etc. The major air carriers serving the airport include Air Canada, Delta Airlines, Delta Connections, United Express, US Airways, US Airways Express and Continental Express. Major Air cargo operators for the airport include FedEx Express, UPS Airlines and Wiggins Airways.
Terminal Facilities at Manchester Airport
The airport offers good amenities for its passengers like 24 hours free Wi-Fi Internet access, ATM centers from major banks, various eateries and number of gifts shops and newsstands. There is a lounge in the airport that offers fantastic facilities for business activities. Special assistance is provided for the old and disabled passengers flying through Manchester-Boston Airport. Manchester-Boston Regional Airport car hire will help you travel around the entire major destinations of the city with utmost ease.