Jackson Hole Airport Car Rental
Car rental at Jackson Hole Airport (JAC) is a preferred means of commuting to Teton County. We are associated with a wide network of suppliers, thus we have access to lowest prices and top discounts to make your Teton car rental experience. Our Jackson Hole Airport car rental deal is all inclusive with airport fee, theft protection, CDW, liability insurance, customer support and more. Find top car hire deals at Jackson Hole Airport now.
Guide to Jackson Hole Airport (JAC)
Jackson Hole Airport is a public airport that is located seven miles north of the central business district of Jackson, a town in Teton County, Wyoming, United States. The Airport is owned by the Jackson Hole Airport Board. It is located at the base of the spectacular Teton Mountains. The Airport is located entirely within Grand Teton National Park. The design of the airport blends with the unique surroundings of the national park and Jackson Hole preservation area.
The entrance from the outside is a wood walkway that heads to the main terminal building. The airport has 6 gates and United and American Airlines serve 757-200w's there. American Airlines, Delta Airlines, Northwest Airlines, SkyWest Airlines, United Airlines and United Express all service the Jackson Hole Airport, flying to Chicago, Dallas Denver, Salt Lake City, Los Angeles, Minneapolis and Atlanta.
Terminal Amenities at JAC Airport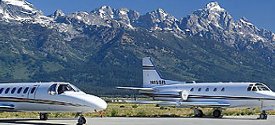 Jackson Hole Airport covers an area of 533 acres and had one asphalt paved runway. There is one restaurant at the airport, "Jedediah's" at the Airport, which also has a full service bar. Soda dispensers are strategically situated throughout the terminal. The airport has one gift store, Jedediah's At the Airport, which has an excellent array of souvenirs, books and snacks. Presently, soda and snack machines, restrooms and drinking fountains, soda and snack machines are installed at the boarding area for passenger convenience. Wireless internet access by Opti-Fi is available throughout the terminal. Jackson Hole Airport car hire desks, hotel shuttles and taxis all operate at the airport. Rent a car at Jackson Hole Airport to get around in Teton County.